By Lisa Qin and Fu Ning, Education and Child Development, UNICEF China
For China's children returning back to school with 94.5 million other primary school-aged students in the Year of the Rooster, there are still stark differences between the quality of education and schooling outcomes that they all face. That's what is called an education gap, and one way China's Ministry of Education with UNICEF is addressing the issue is through focusing on social and emotional learning and mental health education.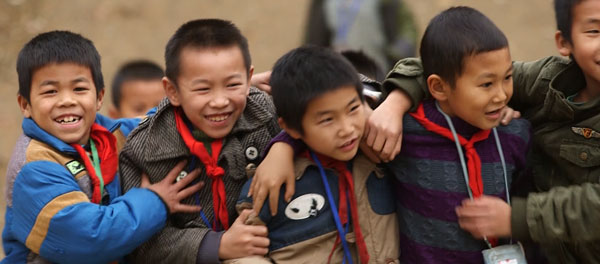 ©UNICEF/China/2015
Ms Wu's students playing and laughing during a class break.
So what is social and emotional learning, or SEL? Unlike traditionally prioritized cognitive skills such as learning literacy or numeracy, SEL is a process in learning a variety of non-cognitive skills and developing knowledge in managing emotions, setting goals and caring for others -- essential for a child's holistic development.
With a strong social and emotional foundation, children can better thrive in a highly dynamic and skill-driven future, especially for some of China's most disadvantaged and vulnerable children who live in rural areas rather than in cities, ethnic minority children or those affected by migration such as Hui Ping, age 9, in Zhong County of Chongqing Municipality, a pilot site for the SEL programme.
Hui Ping is one of the best student's in her teacher Mr Zhang Jun Jian's class. She sits near the front of the classroom and answers Mr Zhang's questions with confidence. But Hui Ping and Mr Zhang have not always had such a good relationship.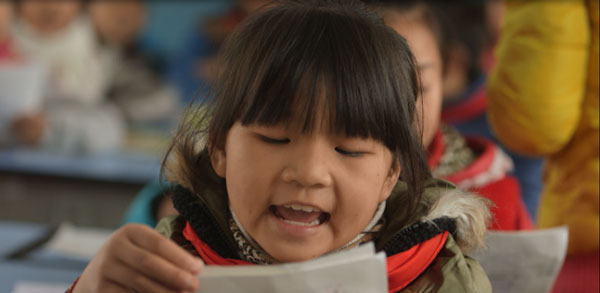 ©UNICEF/China/2015
Hui Ping reading in class.
Last semester, Mr Zhang criticised Hui Ping in front of the class for not finishing her homework. But it upset Hui Ping, and her behaviour changed from being enthusiastic and helping other teachers and friends at school, to being much more reticent and quiet.
"I know our teacher wants us to be well-behaved and listen to their instructions," said Hui Ping, "but I was afraid that if Mr Zhang found out why I wasn't doing my homework, he wouldn't treat me as well." It turned out that she couldn't complete her homework because she was working on tasks to help her family at home.
One day Hui Ping took the initiative to knock on Mr Zhang's office. "Hui Ping wanted to talk about the problems we had before, and I apologised to her after I understood why she hadn't finished her homework before," said Mr Zhang. "The social and emotional learning curriculum has changed me a lot, especially with communicating and getting along with my students like Hui Ping. Our relationship is now even better than before." While teachers want the best for their students and ensure homework is completed, being strict with students is not the only way to improve learning outcomes.
"I learnt that if you feel wronged, you can talk about it and teachers or students can forgive you. If you supress or hold it back then you'll feel uncomfortable for a long time," said Hui Ping, who has now developed more insights into managing her feelings.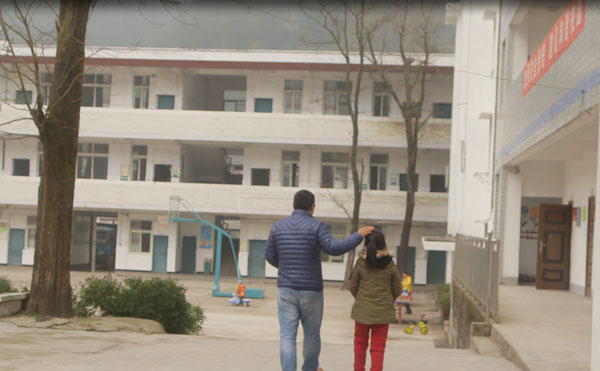 ©UNICEF/China/2015
After talking with Hui Ping, Mr Zhang walking her out and patting her head with care.
By teaching children about their own social and emotional learning, teachers also have time to reflect on their own teaching styles and how to establish and maintain positive relationships and make responsible decisions. "Actually, I still felt remorseful about criticising Hui Ping, and from her perspective, I probably didn't resolve the issue properly," Mr Zhang said. "We need to change our thinking to a more child-centred perspective."
In fact, social and emotional skills are also as important as cognitive skills in shaping outcomes, particularly perseverance, sociability and self-esteem. For example, a meta-analysis of school-based SEL programs in the United States found an 11-percentile-point gain in students' academic achievement (Durlak, Weissberg, Dymnicki, Taylor, & Schellinger, 2011). Other research has found what most affects learning are social and emotional factors, such as peer relationships, the classroom climate and students' interaction with teachers.
SEL is also essential for good teaching and learning, something that Ms Wu Lianying, a primary school teacher in Sanjiang County, Guangxi Zhuang Autonomous Region, another pilot site, learnt to appreciate in realising that the old Chinese saying 'good students come from strict teachers' was not entirely true.
Ms Wu used to embody those traits of a typical strict teacher: serious, tough, having high expectations on students and most of the time, unapproachable. "We were a bit afraid of talking to her, because she always wear a poker-face", said Ming Xia, a student. "She would force us copy homework assignments ten times as a punishment for turning it in late." Strict discipline was regarded as one key approach to demonstrate authority and ensure good learning results.
After the SEL pilot programme was implemented, Ms Wu greets her students with a pleasant smile every time she enters her classroom. They even visit her dormitory at noon time and enjoy local snacks together. She found that students started to like her and her lessons as well. "I know that being a good teacher, one should not only care for children's academic achievements, but also their mental wellbeing and their families as well," Ms Wu said.
China's recently education reforms have focused on improving the quality of education, or suzhi jiaoyu, which is not only about achieving high grades, but also about the way students learn, the environment they learn in and how they apply what they learned. Students such as Hui Ping in less developed areas and their teachers such as Mr Zhang's and Ms Wu's, need more support in carrying out these reforms, which call for more interactive teaching.
Schools in Zhong County of Chongqing Municipality and Sanjiang County, Guangxi Zhuang Autonomous Region are part of the 250 schools across five provinces in disadvantaged communities where the Ministry of Education and UNICEF's Social and Emotional Learning program has been piloted since 2012.
By Lisa Qin and Fu Ning, Education and Child Development, UNICEF China