By Margo O'Sullivan, Chief of Education, UNICEF China
"While striving to eliminate poverty and improve people's livelihood, it is important for us to uphold equity and social justice and ensure that everyone has access to opportunities and benefits of development."
Remarks by H.E. Xi Jinping, President of the People's Republic of China at the United Nations Sustainable Development Summit, UN Headquarters, New York, 26 September 2015
'What are the SDGs?' 'What is your favourite SDG?' Two questions I posed at a global issues 'hope for humanity' day to a group of middle and high school students from 12 schools in Beijing. The first question elicited teenage shrugs, downcast eyes, and zero knowledge. I posed the second question after presenting the excellent World's Largest Lesson videos to explain the SDGs. Believe it or not, Education emerged the winner as most students' favourite SDG. I promise I showed no bias to influence their answers!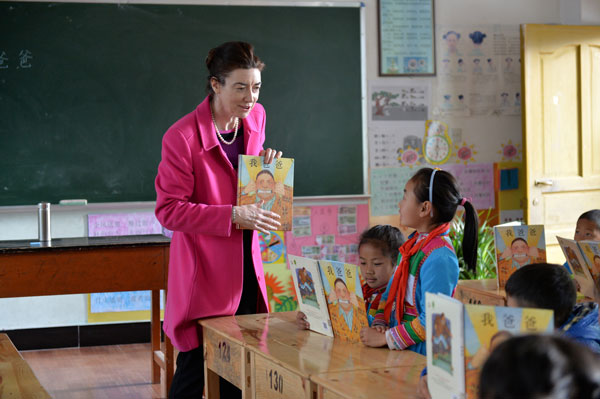 ©Courtesy of Porsche China
Margo O'Sullivan, Chief of Education at UNICEF China, reads a picture book with Grade 2 students at Shuicheng Primary School in Tengchong, Yunnan Province,
The global issues day organiser and I explored more over lunch during which a discussion ensued about the influence of SDG4 on UNICEF China Education programmes. I explained that upon joining UNICEF China in July 2014, my team and I were keen to ensure that our new country programme 2016-2020 was fully aligned with the forthcoming SDG4, in particular UNICEF's global education foci on equity, early childhood development (ECD), learning and adolescence. I didn't know then the extent to which China would be committed to SDG4 and engaged with UNICEF and UNESCO around SDG4, therefore, making alignment a natural and easy process.
UNICEF in China uses a 'muddy boots' approach to our work – working with the Ministry of Education (MoE) we pilot interventions, all of which are SDG focused, in disadvantaged areas of China. Our interventions seek to address equity, which underpins SDG4 in China, through developing tried and tested models to inform national education policy. For example, to address challenges faced by the 31 million ethnic minority children we have developed and are piloting a culturally appropriate pedagogy with MoE, to inform policy.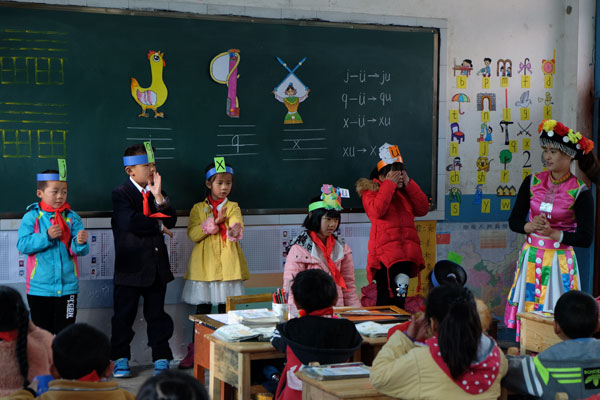 ©UNICEF/China/2016/Yang Jingjie
Grade 1 students, mostly from the Lisu ethnic minority group, at Shuicheng Primary School in Tengchong, Yunnan Province, do class exercises designed to help them learn the Chinese phonetic alphabet during a language lesson.
UNICEF, UNESCO and MoE work together through national, regional and global mechanisms, to support SDG4 in China, and also regionally and globally through South-South Cooperation. For example, UNICEF China supported the education elements of China's 13th Five Year Plan (2016-2020), bilaterally, and through an international SDG4 meeting in Beijing in December 2015. China's 13th Five Year Plan demonstrates the extent to which SDG4 is part of core business in China. UNICEF China also engages at regional and global SDG4 meetings with MoE, and in November 2016 in Bangkok we participated in the second annual regional Asia-Pacific Meeting on Education 2030 (APMED) SDG4, which is focusing on the 'indicator conundrum'.
To return to my Beijing students, and a third question I posed – 'How can we make SDG4 a winner by 2030?' I shared some statistics with the students to highlight the scale of this endeavour for China and the equity focus, and to guide our reflections and discussion on making SDG4 a winner in China. China is the largest developing country in the world with 279 million children, 70 million of whom live in designated poverty counties, 5 million of whom are disabled, 106 million of whom are affected by migration, one in seven ECD-aged children globally live in China, and other mind blowing statistics (http://www.unicef.cn/en/atlas). The word 'winner' focused my own reflections. Winning involves measurement – how do I/we measure up against another or in the case of SDGs, against targets? Herein lies what I term the SDG4 conundrum – how can we make SDG4 a global winner by 2030 if we are unable to measure some of the 11 global indicators and haven't yet reached agreement on the 43 Thematic indicators?
The September 2016 release in China of the national SDG implementation plan, which followed the April position paper, raises, particularly, I suggest, the SDG4 conundrum. The plan is presented in tabular format with broad action guidelines that will enable each SDG4 target to be realised; however, the global indicators are only included for some targets and as part of the action narrative. Other indicators are added, which seem to me to be proxy indicators for the 11 global indicators, such as 95 per cent retention rate for nine years compulsory education for indicator 4.1, gross enrolment rate for three years of pre-school with 85 per cent target by 2020 for 4.2, and for 4.3, an indicator on gross enrolment rate of 90 per cent for senior secondary school and 50 per cent for college education by 2020. The main reason for this is, I suggest, data availability which all countries are challenged with in using the 11 global indicators, the SDG4 conundrum. It highlights the urgency of addressing the SDG4 conundrum. We must all support dealing with this challenge.
The article was first published in NORRAG News.