By Margo O'Sullivan, Chief of Education at UNICEF China
In September 2015, at the launch of the 17 Sustainable Development Goals, Ban Ki-Moon, then UN Secretary General, announced that the "torchbearers of the SDGs" are young people. A recently completed innovative #Imagine2030 campaign in China demonstrated that, in China, at least, his vision can be realized. At present, there are 1.8 billion young people around the world. With 278 million young people aged between 10 and 24, China hosts the second largest young population globally. The #Imagine2030 campaign, which reached millions of young people, highlights that today's youth want to make the world a better place, especially for the most disadvantaged, by 2030, the ultimate aim of the SDGs. The million comments demonstrates this.
"I hope by 2030 the world will no longer have wars, and happiness will be around us all. Underprivileged people will no longer be discriminated, and all the children left behind can smile cheerfully."
- Hebei netizen
"I hope there will be green grass, blue sky, and everyone is happy. Let's say NO to air pollution."
- Sichuan netizen
"I hope by 2030 the world will no longer have wars or conflicts, and everyone will be able to enjoy a peaceful and happy life."
– Inner Mongolian netizen
In China, UNICEF co-leads the UN Country Team's youth sub-group with UNFPA. The group consists of 12 UN agencies working to foster information exchange, propose national campaigns, produce shared knowledge products and meaningful youth participation among UN agencies on youth related issues. The group's first national campaign focused on the SDGs. To mark the 71st anniversary of the UN, we launched the #Imagine2030 campaign on 24th October 2016. The campaign sought to raise awareness of the SDGs and to engage Chinese youth meaningfully in expressing their views about the implementation of the goals. To date, the campaign has generated over 700 million views and nearly 28 million comments on the #Imagine2030 social media pages becoming an unprecedented hit on Chinese social media. One netizen even claimed: "You are out if you do not know the UN SDGs!"
The campaign invited young people to choose their favourite SDG and submit their creative depiction of what the world would look like in their imaginations in 2030 when it has been successfully achieved. Young people submitted their works of art in various forms, from videography and photography to posters, drawings and calligraphy. Seventeen prize winners were then chosen, one for each SDG.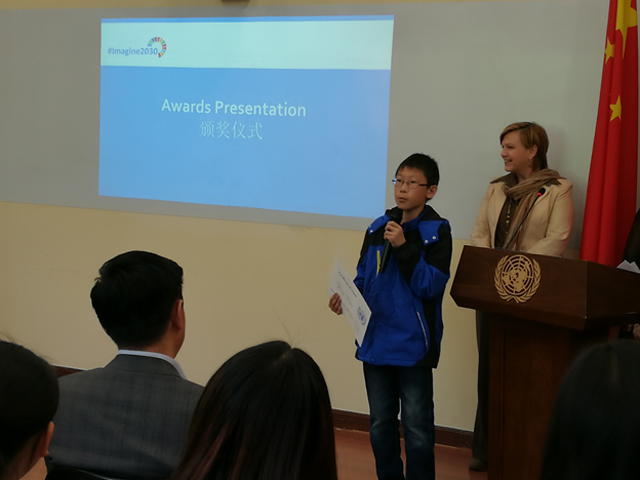 ©UNICEF/China/2017/Margo O'Sullivan
Zhang Qingze, aged 12 from Shandong Province, talks about his award winning art piece on SDG Goal 1.
On 12th April 2017, the awards ceremony for the 17 prize winners was held in the UN compound, in Beijing, with UN representatives, and other key stakeholders. Rana Flowers, UNICEF Representative to China, and Babatunde Ahonsi, UNFPA Representative to China, presented the awards and provided time for each award winner to talk about their visualization of 2030 as depicted in their piece of art. The award winners hailed from both urban and rural areas of China, covering six provincial-level regions, three municipalities, and the special administrative region of Hong Kong. The winning contributors are made up of boys and girls of all ages and ethnicities, giving testament to the breadth of interest the campaign managed to generate and the diversity of participation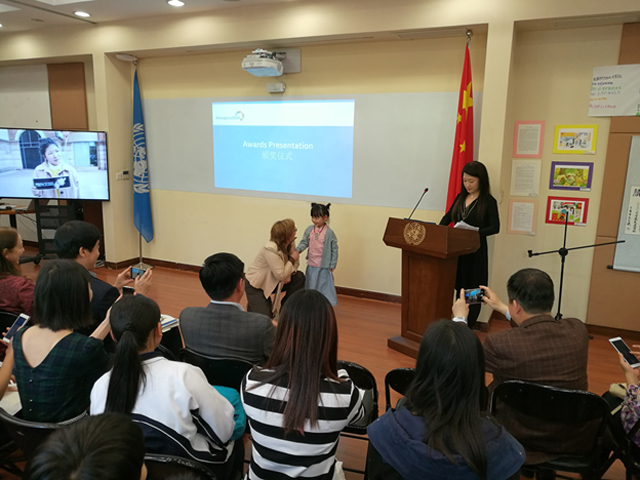 ©UNICEF/China/2017/Margo O'Sullivan
Rana Flowers presents award to youngest participant, 6-year-old Wang Haozhe from Urumqi, Xinjiang.
One of the award winners was renowned pop singer Wang Yuan from the band, TF Boys, who chose the SDG Goal 4 Education. His support and that of other celebrities were critical to enabling the significant reach of the campaign, from all over China, including millions of children left behind by their migrating parents and other marginalized young people. He was recently appointed by UNICEF China as Special Advocate for Education.
©UNICEF/China/2017/Margo O'Sullivan
Wang Yuan, singer with boyband TF Boys, talks about his passion for and commitment to SDG Goal 4 Education.
The success of the #Imagine2030 campaign gives me so much hope for the future – young people want to build and live in a better world, they want equality and equity, a world free of poverty. We must continue to find ways to engage with young people globally and tap into and utilize their excellent visions and ideas for the future. Young people are indeed, the 'torchbearers of the SDGs'.