By Rana Flowers, UNICEF Representative to China
Today there are around 535 million children living in countries affected by emergencies − one out of every four children in the world today.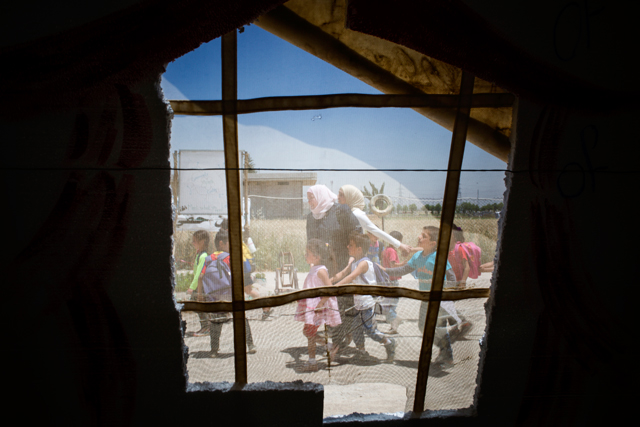 ©UNICEF
On 1 June 2016, young Syrian refugees leave the school at the Saadnayel Informal Settlement in Bekaa Valley.
From Syria to Yemen and Iraq, from South Sudan to Nigeria, children are under direct attack, their homes, schools and communities in ruins, their hopes and futures hanging in the balance. From relentless conflicts and displacement crises, to the impacts of El Niño or La Niña in southern Africa to the devastation of seasonal storms and other disasters in Haiti, humanitarian crises are threatening the lives and futures of more children today than perhaps any other time in history.
Many of these children are already vulnerable -- living in poverty, deprived of adequate nutrition, out of school, at risk of exploitation. Such complex and protracted emergencies aggravate the risks these children face and exacerbate their needs. They also threaten their societies − potentially reversing hard-won development gains around the world.
In such a world of cascading crises, we must not only meet immediate needs but address long-term development challenges, recognizing that how we respond in emergencies today lays the foundation for future growth and stability, and how we invest in development today helps build resilience against future emergencies. Both the Sustainable Development Goals and the 'Grand Bargain' struck at the World Humanitarian Summit reflect this growing interconnectedness. For the children living through these emergencies, there is little if any distinction.
For when we deliver nutrition in crises, we are not only saving a child's life today. We are supporting her ability to learn more and, as an adult, to earn more − the better to support her own children's healthy development.
Similarly, when we deliver education and protection services in emergencies, we are not only building a child's sense of safety and normalcy. We are also giving children the tools to rebuild their lives and communities. UNICEF and our partners are confronting these challenges in a way that meets today's urgent needs while laying the foundation for tomorrow.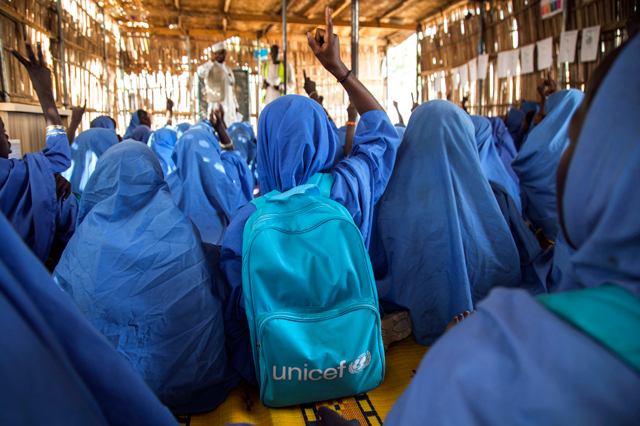 ©UNICEF
On 7th November 2016, children attend a class at a primary school in Muna Garage IDP camp, Maiduguri, Borno State, Nigeria.
The Government of China has played an important part in helping children and their families outside of China living through crisis by providing Syrian children displaced in Lebanon with basic needs such as winter clothes and education kits to weather the cold winter months and keep education going, or by expanding child health programmes in Africa and Asia.
China's economic might and development experiences, underpinned by the Government's commitment to achieve the SDGs for all, to improve children's wellbeing beyond its borders, will help reshape the destiny of millions of children in the world.
Meeting the challenge of reaching the children in greatest need and at greatest risk is the reason UNICEF was founded 70 years ago in the aftermath of World War II. Supported by governments, we worked to bring life-saving aid and long-term support to children whose lives and futures were imperiled, understanding that the future hope of the world depended on them. Our mission is no less urgent today. And children are always the hope of the world.
UNICEF urges the public to stand in solidarity with these children, no matter their gender, race, religion and ethnic group.
We must remember that behind each number is a child. One child living through such adversity is one too many, and yet today, there are a staggering number of children doing just that.
On International Children's Day, let us not forget these children.
The opinion piece was first published in the People's Daily on 1 June, 2017.